Krishnan Chakravarthy, M.D., Ph.D.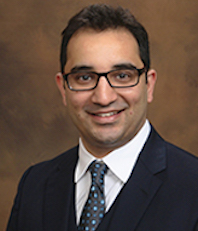 Krishnan Chakravarthy, M.D., Ph.D.
Assistant Clinical Professor, Anesthesiology
Affiliate Professor of NanoEngineering
University of California, San Diego
kvchakravarthy@ucsd.edu
Research Summary
There are three major themes and areas of interest for my laboratory. These include studying the basic mechanisms of chronic pain with a focus on novel small molecule development, nanomedicine, and neuromodulation. We apply nanotechnology as novel diagnostic and drug and gene delivery tool to study these areas. The first area of focus has been working with the UCSD NanoEngineering and Bioengineering Laboratory to develop new neuromodulation technologies as well as drug delivery and point of care devices for management and detection of intractable chronic pain refractory to medication or conservative interventional procedures. With respect to basic mechanisms of chronic pain, our laboratory is currently working on the role that TLR4 plays in mitigating persistent post-operative pain and advancing in collaboration with a large pharmaceutical company on a small molecule MD2-TLR4 antagonist DT-001 for use in persistent post-operative pain in the context of a phase 2a clinical trial. In the neuromodulation space, we are working on developing new pain measurement tools, using machine learning methodology and focused on novel hardware advancements in the space using nanotechnology. We are looking at developing novel transdermal delivery systems to deliver pain medications as an alternative to opioid treatment.
Education
BA: Biology, 06/00 - 06/04, University of Chicago
MD: 08/04 - 06/12, Jacobs School of Medicine and Biomedical Sciences, Buffalo NY
PhD: Microbiology/Immunology, 08/06 - 08/09, Jacobs School of Medicine and Biomedical Sciences, Buffalo NY
Intern: Medicine, 07/12 - 07/13, Griffin Hospital (Yale Affiliate), Derby, CT
Resident: Anesthesiology, 07/13 - 07/16, Johns Hopkins Hospital, Baltimore, MD
Fellow: Clinical Pain, 07/16 - 07/17, Massachusetts General Hospital (Harvard Medical School), Boston, MA
Career Appointments
07/17 – Present Assistant Professor of Clinical Anesthesiology, UCD Anesthesiology
07/17 – Present Attending Physician at VA San Diego Healthcare System
11/16 – Present Consultant and Medical Advisory Board Abbott
09/17 – Present Affiliated Professor UCSD Department of NanoEngineering
Selected Publications
Chakravarthy KV, Davidson BA, Helinski JD, Ding H, Law WC, Yong KT, Prasad PN, Knight PR. Doxorubicin conjugated quantum dots to target alveolar macrophages/inflammation. Nanomedicine. 2011 Feb;7(1):88-96.
Chakravarthy KV, Bonoiu AC, Davis WG, Ranjan P, Ding H, Hu R, Bowzard JB, Bergey EJ, Katz JM, Knight PR, Sambhara S, Prasad PN. Gold nanorod delivery of an ssRNA immune activator inhibits pandemic H1N1 influenza viral replication. Proc Natl Acad Sci U S A. 2010 Jun 1;107(22):10172-7.
MacDonald BA*, Chakravarthy KV*#, Davidson BA*, Mullan BA, Alluri R, Hakansson AP, Knight PR. Halothane Modulates the Type I Interferon Response to Influenza and Minimizes the Risk of Secondary Bacterial Pneumonia through Maintenance of Neutrophil Recruitment in an Animal Model. Anesthesiology. 2015 Sep;123(3):590-602.
*authors contributed equally #corresponding author
Chakravarthy KV, Boehm FJ Christo, PJ.; Nanotechnology: A Promising New Paradigm for the Control of Pain. Pain Med 2017 pnx131. doi: 10.1093/pm/pnx131.
Chakravarthy K., Richter H., Christo P.J., Williams K., Guan Y. 2017. Spinal Cord Stimulation for Treating Chronic Pain: Reviewing Preclinical and Clinical Data on Paresthesia-Free High-Frequency Therapy. Neuromodulation 2017; E-pub ahead of print. DOI:10.1111/ner.12721
Chakravarthy K., Kent A.R., Raza A., Xing F., Kinfe T.M. 2018. Burst Spinal Cord Stimulation: Review of Preclinical Studies and Comments on Clinical Outcomes. Neuromodulation 2018; E-pub ahead of print. DOI:10.1111/ner.12756
Bruno K; Woller, Sarah A.; Miller, Y I.; Yaksh, TL.; Wallace MS; Beaton G; Chakravarthy, KV. Targeting Toll-like Receptor-4 (TLR4) - Emerging Therapeutic Target for Persistent Pain States. PAIN 2018. In Press.
Gravius N, Chaudhry SR, Muhammad S, Boström A, Gravius S, Randau T, Scheele D, Westhofen P, Kruppenbacher J, Stoffel-Wagner B, Maier C, Weidlich A, Yearwood TL, Chakravarthy KV, Kramer JM, Hurlemann R, Kinfe TM Selective L4 dorsal root ganglion stimulation evokes pain relief and changes of inflammatory markers: Part I profiling of saliva and serum molecular patterns. Neuromodulation 2018. In Press.
Grinberg, AM, D'Eon, Ellison, JK, Rutledge, T, Castellanos, J Chakravarthy, KV.Special report: A revised psychosocial assessment model for implantable pain devices to improve their evidence-basis and consensus with updated pain management guidelines. Pain Manag. 2019 Mar 1;9(2):139-149. doi: 10.2217/pmt-2018-0047
Soto, F Jeerapan, I, Silva-López, C, Lopez-Ramirez MA, Chai , Xiaolong Lu, J; Lv, Kurniawan, JF, Martin,I, Chakravarthy K and Wan J. Non-Invasive Transdermal Delivery System of Lidocaine Using an Acoustic Droplet-Vaporization based Wearable Patch. Small. 2018 Oct 17:e1803266. doi: 10.1002/smll.201803266.