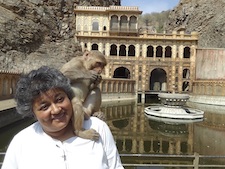 About the Division
The newly formed Division of Global Health exists in order to house the fellowship in Global Health and Policy, and in order to coordinate the efforts of the many members of our department and related disciplines (Ob/Gyn, surgery and its many specialties, gastroenterology who are actively involved in global health efforts. It also promotes and manages international rotations for our residents, usually in the last year of the residency program.
We conduct quarterly Journal Clubs, and offer the option to audit courses in Global Health Policy taught by Dr. Timothy Mackey in the fall and winter quarters, and Clinical Perspectives in Global Health, taught by Dr. Reema Sanghvi in the Spring quarter. These courses are offered to undergraduate students, graduate students, and medical students.
Fellowship in Global Health & Policy
Get a sense of the scope of our activities and pending collaborations by reviewing our fellowship in Global Health and Policy. Since this is a non-ACGME certified fellowship opportunity we have a great deal of flexibility in helping the fellow achieve their goals in this endeavor. This offering comprises international field experiences, didactics and research.