Global Health & Policy Fellowship
About the Fellowship
The Department of Anesthesiology at the University of California San Diego is pleased to announce the inception of a 1-year fellowship in Global Health with an emphasis on Policy. Since this is a non-ACGME certified fellowship opportunity we have a great deal of flexibility in helping the fellow achieve their goals in this endeavor. This offering comprises international field experiences, didactics and research.
The fellowship aims to provide exposure to the range of options in global health field work, from supporting a residency program, to working alongside anesthesia assistants with very limited formal training, to providing services where none are available. The goal is to help build capacity and improve safety in low resource settings. We will involve the fellow in the planning process so that they understand the behind the scenes work and the importance of the social and political context in which our partner hosts operate. We hope to cultivate leaders who can formulate and potentially implement sustainable solutions of real value to underserved populations around the world.
Locations of Existing Opportunities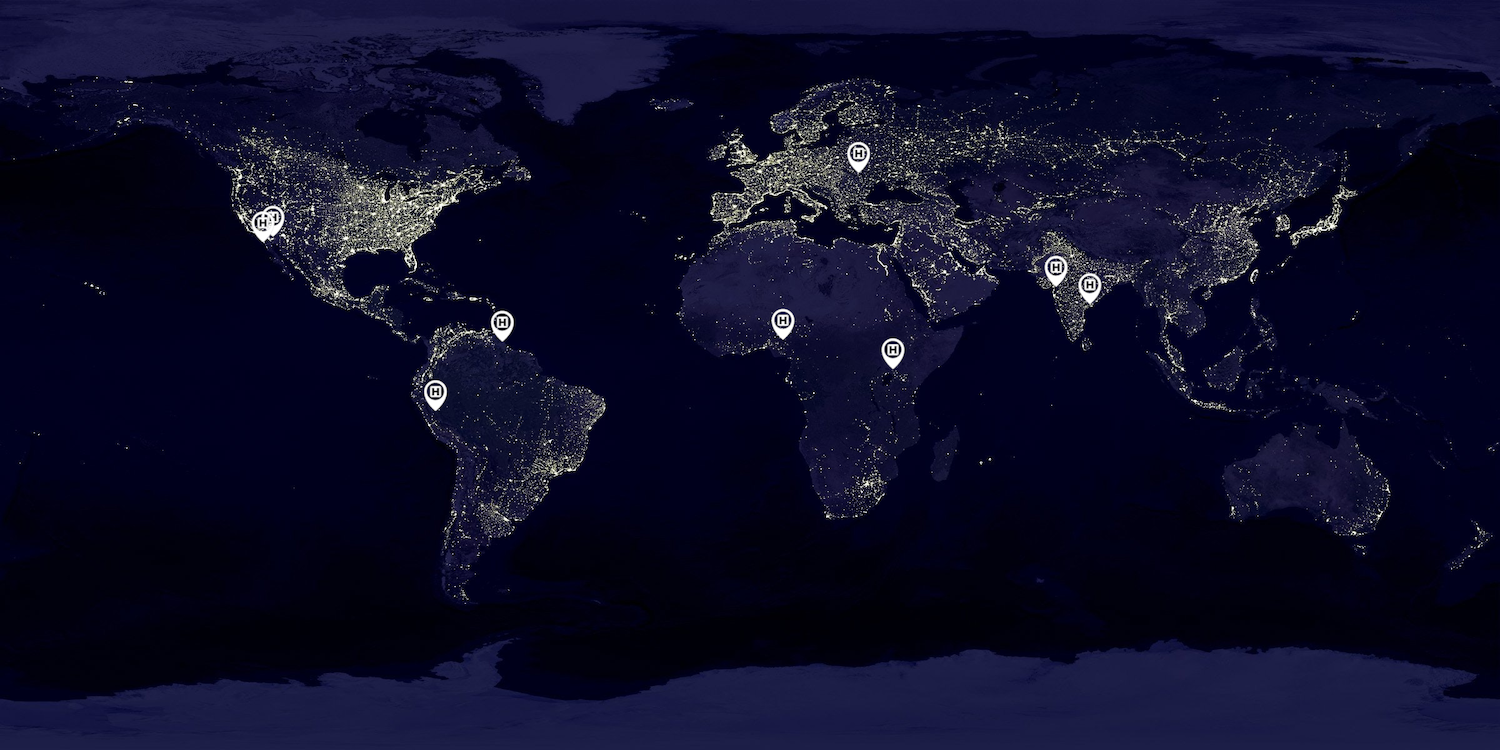 Left to Right: One Thousand Smiles (Ensenada, Mexico) Interface (Mexicali, Mexico) Regional Medical Center (Pucallpa, Peru) Anesthesiology Residency Program (Georgetown, Guyana) Evangel Hospital (Jos, Nigeria) Regional Teaching Hospital (Ivano-Frankivsk, Ukraine) St. Francis Hospital (Buluba, Uganda) Charitable Secular Hospital (Jhagadia, India) Adventist Hospital (Nuzvid, India)
Fellowship Structure
The didactics include course work in Global Health with an emphasis on Policy taught by Dr. Tim Mackey, who is widely published in many areas of global health policy and manages the Global Health Policy Institute. There will be the opportunity to attend national and international Global Health conferences including the rotating Global Outreach Course in Anesthesiology, the Bethune Roundtable, and the World Congress of Anesthesiologists. The fellow will have the opportunity to conduct mentored research, present the results at national and/or international meetings and publish in peer-reviewed journals.
The international field work can be for up to 6 months. While stateside and taking the aforementioned global health courses, the fellow will have the opportunity to supervise residents and CRNAs as well as do their own cases in our ORs. The fellow will also have the opportunity to occasionally function as an obstetric anesthesia fellow, and a regional anesthesia fellow, these being subspecialties that are of great interest and relevance to our international colleagues. While no call is required, there is the opportunity to moonlight internally to supplement one's salary.
Eligibility
A complete application includes:
A current CV
3 letters of recommendation including one from your program director
A personal statement describing your interests and goals
Application Period
Applications are accepted on an ongoing basis for a position starting in July of 2019, and each July thereafter. Off cycle applications will also receive due consideration. Please direct all inquiries to rsanghvi@ucsd.edu.
Faculty
Dr. Reema Sanghvi is a seasoned clinician and academician who has pursued her interest in Global Health in many corners of the globe. She will be responsible for the coordination and supervision of the field work, including any clinical research. She will also teach a course in Clinical Perspectives in Global Health to UCSD undergraduates that the fellow will take, and guest lecture in.
Dr. Tim Mackey, Ph.D., Director, Global Health Policy Institute, is extremely well published in Global Health and Policy. His interests span from neglected tropical diseases to counterfeit medications. 
Dr. Matt Swisher is fellowship trained in regional anesthesia and participates in teaching the same in Rwanda.
Dr. Swapnil Koche is a cardiovascular anesthesiologist with an interest in global health, who is developing a relationship with a UCSD partner hospital in Mozambique.
Dr. Dan Lee is the Residency Program Director for UC San Diego Anesthesiology, and has an abiding interest in teaching and capacity building in developing countries.
Dr. Ruth Waterman, the Chair of the Department of Anesthesiology, is critical in providing support for the residents who are interested in Global Health, as well as this fellowship.
Note to prospective applicants about the UC COVID-19 Vaccine Mandate:
UC San Diego and San Diego County Health policies mandate that all healthcare workers be up to date with their COVID-19 vaccinations or have an exemption for medical or religious reasons (subject to review and approval). In addition, UC San Diego's major affiliates have similar expectations.