Core Resident Rotations
The First Month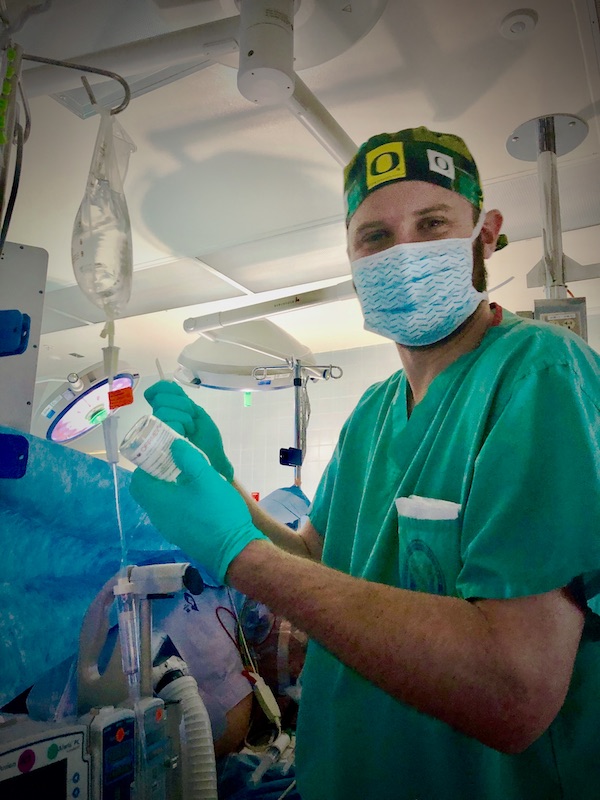 The first month as an anesthesia resident is a critical time in the process of becoming an anesthesiologist. We transition the newest members of our department to thinking like an anesthesiologist by pairing them up with one senior resident for the first two weeks and then with one of our faculty members for the second two weeks. The goals and objectives for this month focus on learning the fundamentals of anesthesia practice and intraoperative event management. Time in the operating room is balanced by daily lectures that focus on core topics in anesthesia.
Midway through the month we will use our high fidelity anesthesia simulator as an adjunct to reinforce key learning points in the setting of small group sessions. In the simulation center, the CA-1 residents participate in 3 hours of Advanced Resuscitation Training (ART), 8 hours of Pediatric Advanced Life Support (PALS), and 8 hours of simulated patient cases/scenarios, each followed by extensive debriefing and discussion. These sessions continue over the course of their residency and progressively become more complex as residents advance. We will also be utilizing standardize patients to assist in how to do a thorough anesthesia preoperative history and physical exam along with preop consent.
The First Month (login required)
Advanced Airway Management
The competent and safe anesthesiologist will necessarily demonstrate mastery of basic, day to day airway management skills. These planning and procedural skills constitute a core component of every anesthesiologist's training, and as a resident at UC San Diego , you will hone these basic skills throughout your training. Advanced airway procedures will also be performed as clinically indicated when the need arises. In addition to these experiences, the UC San Diego Department of Anesthesiology supports a four-week long rotation which focuses on the more advanced airway procedural skills. As the assigned resident during this month, you will be introduced to and trained in multiple technical skills, including various fiberoptic intubation techniques, airway and lung ultrasound examination, advanced extubation techniques utilizing airway exchange catheters, fiberoptic tracheal/bronchial exam, and lung isolation techniques. In doing so, you gain the opportunity to polish relevant skills in a methodical and controlled manner, preparing you for future scenarios which can often present in stressful and less than ideal circumstances.
Learning Objectives:
Formulate safe and thoughtful airway management plans based on consensus and teachings from the ASA Difficult Airway Algorithm, the Society for Airway Management and the Difficult Airway Society
Assimilate the necessary skills to perform rescue fiberoptic guided intubation under continuous mechanical ventilation via various laryngeal mask airways
Gain aptitude in the consideration and utilization of multiple airway devices, including various lung isolation devices, LMAs, fiberoptic scopes, airway exchange catheters, and oral airways
Identify airway anatomy relevant to various intubation and fiberoptic procedures, airway topicalization and invasive airway access (cricothyroidotomy)
Perform and interpret a focused airway and lung ultrasound examination
Advanced Airway Management (login required)
Ambulatory Anesthesia
At UC San Diego, the bulk of our ambulatory surgical procedures are done in Same Day Surgery. As a resident here, in addition to spending occasional days in SDS, you can elect to do an entire month in Ambulatory Surgery focusing on establishing practices that allow for smooth, rapid wakeups, a low incidence of postoperative nausea, and efficient room turnover.
Cardiothoracic Anesthesia
The cardiac patient base at UC San Diego Medical Center includes:
Valve replacement
Coronary revascularization
Cardiac transplantation
Single and double lung transplantation
Pulmonary thromboendarterectomy
At the Veterans Administration Medical Center, the cardiac rotation consists primarily of anesthetic management of patients for valve replacement and coronary revascularization. The patients are generally elderly, and often have co-existing diseases. Many patients are enrolled in clinical research projects designed to improve anesthetic techniques or patient monitoring.
Cardiothoracic Anesthesia (login required)
Critical Care Anesthesia
Our fellows, residents, and medical students learn the fundamentals of Critical Care Medicine with abundant clinical experience in direct patient management. In addition, didactic training is provided by our internationally acclaimed faculty via bedside teaching rounds, daily critical care lectures and conferences, monthly journal clubs, as well as a number of special lectures provided throughout the year by invited speakers.
UC San Diego Anesthesiology Residents are expected to demonstrate the skills, knowledge, and attitudes needed to meet the requirements of the core competencies listed in the Goals and Objectives. Residents are educated on the core competencies through exposure at daily attending rounds, daily didactic lectures, and X-ray rounds.
Simulation of Critical Care Topics
Simulation provides an opportunity to educate and train residents, fellows and medical students in the emergency management of life threatening events in a controlled setting. The UCSD-Critical Care Simulation Center training is part of the curriculum offered to UC San Diego Anesthesiology residents in their first two years of training. Sessions are conducted at the UC San Diego Simulation Center run by faculty in the UC San Diego Anesthesiology Department.
Uncommon events are difficult to prepare for, and early recognition and proper management is best taught in a controlled setting, where trainees can be introduced to topics and sharper skills without subjecting patients to substandard care during their initial training process.
Critical Care Anesthesia (login required)
Main Operating Room
The rotation in the main operating room will prepare the residents to become independent anesthesia consultants. This is accomplished through a careful increase in complexity of operations and responsibility over the three year residency. This includes anesthetic planning, execution of anesthetic, and patient handover with an emphasis on a multidisciplinary approach to patient care.
Develop a patient-specific management plan for adults patients at all levels ASA classification, for both elective and emergent procedures.
Demonstrate effective and efficient patient care during induction of anesthesia, as well as during periods of instability in the course of the anesthetic care.
Transfer care of the patient after anesthesia/procedure to responsible party (PACU or ICU nurse, etc.) in a manner that ensures patients safety, comfort and continuity of care.
Cost-benefit analysis and cost awareness in patient care.
Neuroanesthesia
The neuroanesthesia resident provides anesthetic care for patients undergoing surgery for a variety of disorders of the central and peripheral nervous system, including:
Deep-seated aneurysms
Arteriovenous malformations
Acoustic neuroma resections
Deep brain stimulation
Epilepsy amenable to surgical correction
Surgical management of tic douloureux
The anesthetic management of these patients includes sophisticated electrophysiologic monitoring, such as processed EEG, motor-evoked responses, BAERs, SSEPs, and segmental SSEPs.
Neuroanesthesia (login required)
Obstetric Anesthesia
In our teaching and training of residents and fellows, our goal is to offer a varied educational experience with a wide variety of patients, always keeping in mind both scientific and humanistic perspectives. While on the obstetric anesthesia rotation, you will work one on one with an obstetric anesthesiologist and learn how to manage a robust and busy obstetric anesthesia service.
Obstetric Anesthesia (login required)
PACU
The UC San Diego Anesthesia Department has its PACU rotation at the La Jolla campus. This allows the resident to observe the effect of different surgeries and anesthetic techniques on direct post-operative outcome. A special focus is hemodynamic and respiratory stability, pain management and nausea. In addition it allows the PACU resident to lead a nursing team and provide a safe transition from intraoperative to post-operative care.
Learning Objectives:
Evaluating and managing postoperative pain, postoperative nausea and vomiting, hemodynamic and cardiovascular disturbances, airway difficulties, neurologic issues, shivering, readiness for discharge.
Recognizing and ordering appropriate studies to establish a diagnosis or evaluate severity when needed.
Transferring patient care to other responsible parties (ICU nurses, other medical teams, ensuring patient safety, patient comfort and continuity of care).
Pain Management
On the pain management rotation, residents treat inpatients at the UC San Diego Medical Center and outpatients at both the UC San Diego Medical Center and VA Medical Center. The UC San Diego service manages primarily patients with chronic pain but also patients with postoperative, post-traumatic, and cancer pain, utilizing local anesthetic blocks, intraspinal narcotics, patient-controlled analgesia, neurolytic blocks, and a variety of investigational techniques.
The outpatient clinics provide a setting for residents to follow up on former inpatients as well as patients with chronic pain issues.
Pain Management (login required)
Pediatric Anesthesia
The division of pediatric anesthesia at UC San Diego is committed to the training of residents who will become competent and comfortable in the perioperative care of pediatric patients of all ages. Exposure to pediatric patients occurs at all stages of residency at UC San Diego Hillcrest, Jacob's Medical Center, Moore's Cancer Center, and Radys Children's Hospital through care of children for diverse types of procedures. At UCSD's main campuses you will be involved in the care of children in the main operating room during the care of burn and trauma patients as well as pediatric patients undergoing ophthalmologic procedures at Shiley Eye Center. Interventional radiology procedures, including sclerotherapy and embolization and coiling of intracerebral AVMs and aneurysms, are performed at Jacob's Medical Center. Moore's Cancer Center, provides an unique opportunity to establish longer-term relationships with pediatric patients undergoing frequent radiation therapies. The Level 1 NICU allows residents to establish anesthetic skills in caring for neonates. Knowledge and skills are further refined during a minimum of 2 months spent at Radys Children's Hospital during the CA-2 and CA-3 year. Additional opportunities are available for residents who may be interested in gaining a deeper knowledge of pediatric intensive care and congenital heart disease.
Learning Objectives:
Residents will learn about normal and abnormal pediatric development and physiology. The residents will apply this knowledge of pediatric development to the perioperative period to create a safe preoperative, intraoperative and postoperative anesthetic plan, recognizing the differences in care of children and teenagers from the care of adults.
Residents will be able to formulate and implement a safe anesthetic plan for a diverse number of surgical procedures, including both inpatient and outpatient procedures. The residents will be able to tailor the anesthetic plan based on the nature of the surgical procedure performed.
Residents will be able to formulate and implement a perioperative plan for pediatric patients that includes a comprehensive pre-operative assessment, appropriate discussion of anesthetic risks as well as a post-operative pain management. Residents will recognize the impact that intraoperative care has during the post-operative course of the pediatric patient.
Pediatric Anesthesia (login required)
Out of OR Anesthesia
Objectives:
As a senior resident, you will rotate through the offsite anesthesia locations- EP, GI and IR suites.
Learn safe and effective management of patient cases in these areas
Work and collaborate with out of OR staff, including techs, nurses and proceduralists
Understand anesthetic management challenges while working in out of OR areas and become comfortable handling patient care issues that arise
Anesthesia Preparedness Clinic
The UC San Diego Anesthesia Department runs two preoperative anesthesia clinics. This allows us to see patients well before their surgery, identify issues that may need additional workup, answer patient questions, and provide patients with instructions to follow leading up to their surgery.
As a resident you will be involved in this process through seeing patients and discussing with your Preop Attending the issues you have identified and how you would like to go about addressing them.
Coordinate the pre-operative care of patients admitted to undergo surgery including the assessment and management of cardiac, pulmonary, neurologic, renal, hepatic, hematological and endocrine risk factors.
Appreciate the complex interactions that go on between primary care teams, consulting services, surgeons and anesthesiologist in the overall hospital management of complex patients.
Formulate an appropriate anesthetic plan and be able to discuss types of anesthesia.
Anesthesia Preparedness Clinic (login required)
Regional Anesthesia
The Regional Anesthesia training program at UC San Diego is committed to excellence in education and clinical research. The rotation introduces residents to various anesthetic techniques tailored to upper or lower limb surgery.
Residents will become familiar with:
Local anesthetic pharmacology
Neuroanatomy
Physiology of nerve transmission
The indications/contraindications of regional anesthesia
Initially, resident training focuses on the various approaches to brachial plexus blockade, intravenous regional anesthesia, and peripheral nerve block techniques of the lower limb. Trainees learn nerve localization using electrical stimulation and ultrasound.
Finally, residents are introduced to nerve block catheter techniques that provide continuous analgesia for inpatients and outpatients.
Anesthesia Residency (login required)
Surgical Airway
Cricothyrotomy is a life-saving emergency airway procedure in a 'can't intubate can't ventilate' (CICV) situation. It is the final step in the ASA difficult airway algorithm and the Difficult Airway Society [1]. In an emergency CICV situation, when the patient is hypoxic, cricothyrotomy should be performed rapidly and safely to achieve rapid re-oxygenation. However, the performance of a clinical skill can be affected by stressful conditions and, in a real life emergency, psychological factors and time pressure could affect the performance of this life-saving skill. In such situations, theoretical knowledge and regular training of the skill on a manikin, simulator or animal model is considered key to success.
Learning Objectives:
History of Cricothyrotomy
Evidence from Outcome Data
DAS Guideline
Locating the Cricothyroid Membrane
What is best Technique for FONA?
Didactive Technique for Teaching and Training