Fellowship in Perioperative Pain Management
Now Accepting Applications!
---
About the Fellowship
The goal of this program is to provide a fellow with the clinical experience for managing perioperative pain with a multi-disciplinary approach. This includes preoperative planning, pre- and postoperative performance of acute pain/regional anesthesia procedures, postoperative follow-up, and consultations for the management of acute pain in complex situations. From this uniquely designed curriculum, the fellow will gain significant experience in managing an Acute Pain Service, performing regional anesthesia procedures, outpatient and inpatient chronic pain consultations, addiction medicine, and research.
The program is structured over a comprehensive year to include pre-operative clinic visits and optimization of opioids/weaning prior to surgery, exposure to technical procedures such as regional anesthesia peripheral nerve blocks/catheters, neuraxial procedures, postoperative pain management on the surgical floors (PCAs, lidocaine and ketamine infusions etc.), as well as outpatient pain management and weaning for patients in the subacute outpatient postoperative phase as well as addicition medicine.
At the completion of the fellowship, the fellow will receive a dual fellowship certification — one in Regional Anesthesia and Acute Pain Medicine (RAAPM) and another in Perioperative Pain Medicine.
Over the course of a year a fellow can gain proficiency in:
Pre-operative evaluation and optimization of chronic opioid patients
Advanced regional anesthesia peripheral nerve blocks
Neuraxial procedures including thoracic epidurals and spinals
Inpatient postoperative pain management
Postoperative outpatient subacute to chronic pain management
Addiction medicine
Practice as an attending anesthesiologist in the operating room 45 days per year. Opportunity to take up to 24 in-house calls to supplement income.
1 fellow will be accepted annually for an August start date position.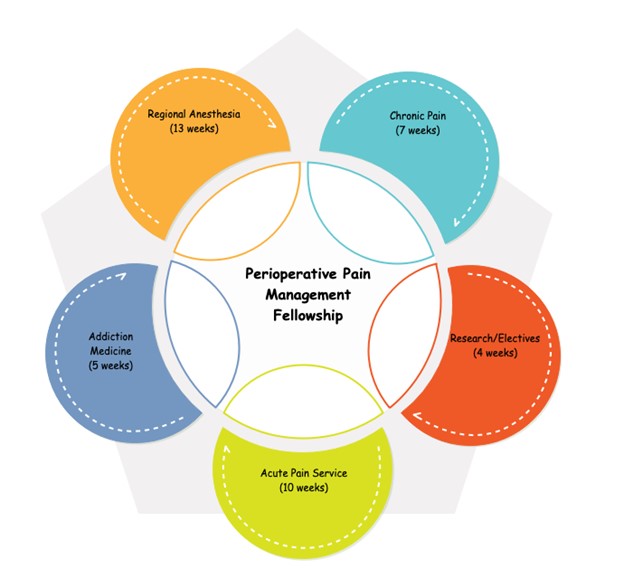 Application Materials
Submit your completed application to esaid@health.ucsd.edu. Include the following:
an updated CV
3 letters of recommendation (one from program director)
a recent picture
USMLE and Specialty In-Service Scores
a copy of Medical School Diploma
Incomplete application packets will not be reviewed.